Treillage Shelving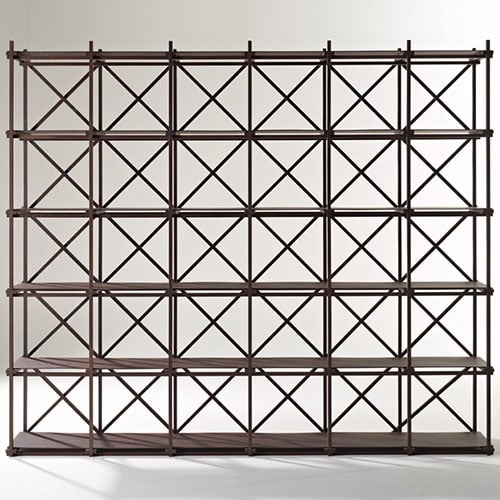 Product Categories: Shelving, Storage
Product Page: https://propertyfurniture.com/product/treillage-shelving/
Product Description
This is a bookshelf that uses strips of solid wood for bracing the structure to strengthen itself. As a three-dimensional mesh, this bookshelf has a visual and structural innovative lightness and unexpected solidity despite the slimness of the material composing it. To complete the structure are some simple shelves, also made of wood with a minimum thickness, which also serve as a further element of stability of the furniture. Please inquire for size and finish customizations. Hand made in Italy.
Product Attributes
Dimensions: 6 Rows x 7 Columns: 106"L x 15"D x 124"H
6 Rows x 6 Columns: 106"L x 15"D x 124"H
5 Rows x 5 Columns: 106"L x 15"D x 89"H
3 Rows x 4 Columns: 54"L x 15"D x 72"H
4 Rows x 3 Columns: 72"L x 15"D x 54"H
5 Rows x 2 Columns: 89"L x 15"D x 37"H

Please inquire for custom sizes.



Color: Structure: Oak wood(natural, tinted or open pore lacquered), Wenge or Flamed Wenge

Oak Wood Stains: Gold Oak, Cherrywood, Walnut, Noisette, Wenge, Grey, Brown or Black

Open Pore Lacquer: Traffic white, Jet black, Cream, Black brown, Stone grey, Reed green, Traffic red or Purple red

Please inquire for full list of available wood stains, RAL lacquer colors or custom finishes.

Product Gallery